LCBC York Receives Recognition for Youth Development Center Partnership
Posted on February 21, 2019
On the snowy Wednesday morning of February 20, 2019, the LCBC York Team traveled to the York County Courthouse for a commissioners meeting, where LCBC Campus Pastor and Director of Team Development Paul Atkinson said a prayer to start. The second order of business was a presentation of recognition to LCBC York and their partnership with the Youth Development Center (YDC) through LCBC's Be Rich initiative.
Be Rich is an initiative that kicks off in November each year, but happens year-round at all LCBC locations, and is an opportunity for our church to unleash generosity and make a difference in our communities both locally and globally. It's through Be Rich that we encourage our church family to give, serve, and love, and the initiative is based on 1 Timothy 6:18, "Command them to do good, to be rich in good deeds, and to be generous and willing to share."
A big part of Be Rich involves our LCBC locations each partnering with local nonprofits in our communities to work together and show the love of Jesus. The YDC is a Be Rich partner of LCBC York, and is designed to provide a safe and healthy environment for all youth, where short-term emotional, physical, educational, social, and spiritual needs are accommodated.
At the commissioner's meeting, York County Community Outreach Coordinator Marie Randel spoke on behalf of the partnership between the YDC and LCBC. "Every time I brought up an issue, you were there to help. From tables to chairs, to sound systems to painting, the list goes on and on and on." She went on to say that even as helpful as all of the physical work was, it was the love shown to the students at the YDC that made all the difference. "When I shared about the various types of kids we have, you immediately extended the hand of friendship and welcomed us unconditionally. I say all this because hearts of gold are a rare find in this world of ours today. And for all the giving, caring, and unconditional love you continue to show, for this we are deeply grateful."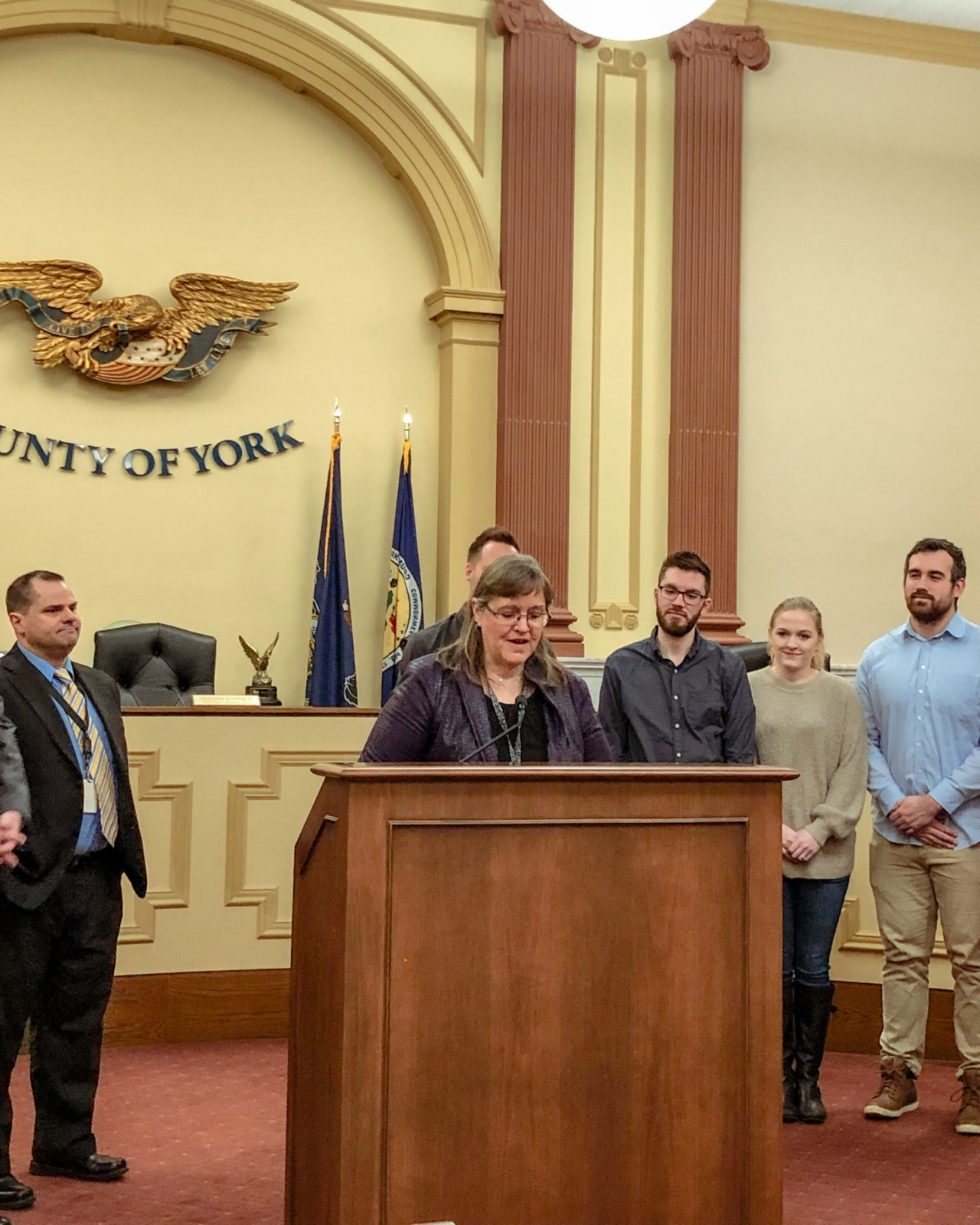 York County Community Outreach Coordinator Marie Randel

LCBC York Campus Pastor Paul Atkinson then shared the heart of LCBC. "We believe that God can change anybody's life, it doesn't matter where you're from, what your past looks like, all the reasons you tell yourself that people couldn't love [you] or God couldn't love [you], we know he can." Paul went on to share how grateful LCBC York has felt to be a part of the York community for almost 7 years. "We [partner with local organizations] not to wave our flag out there, but we do it to help advance their mission...it's just important and needed work that shows value to people."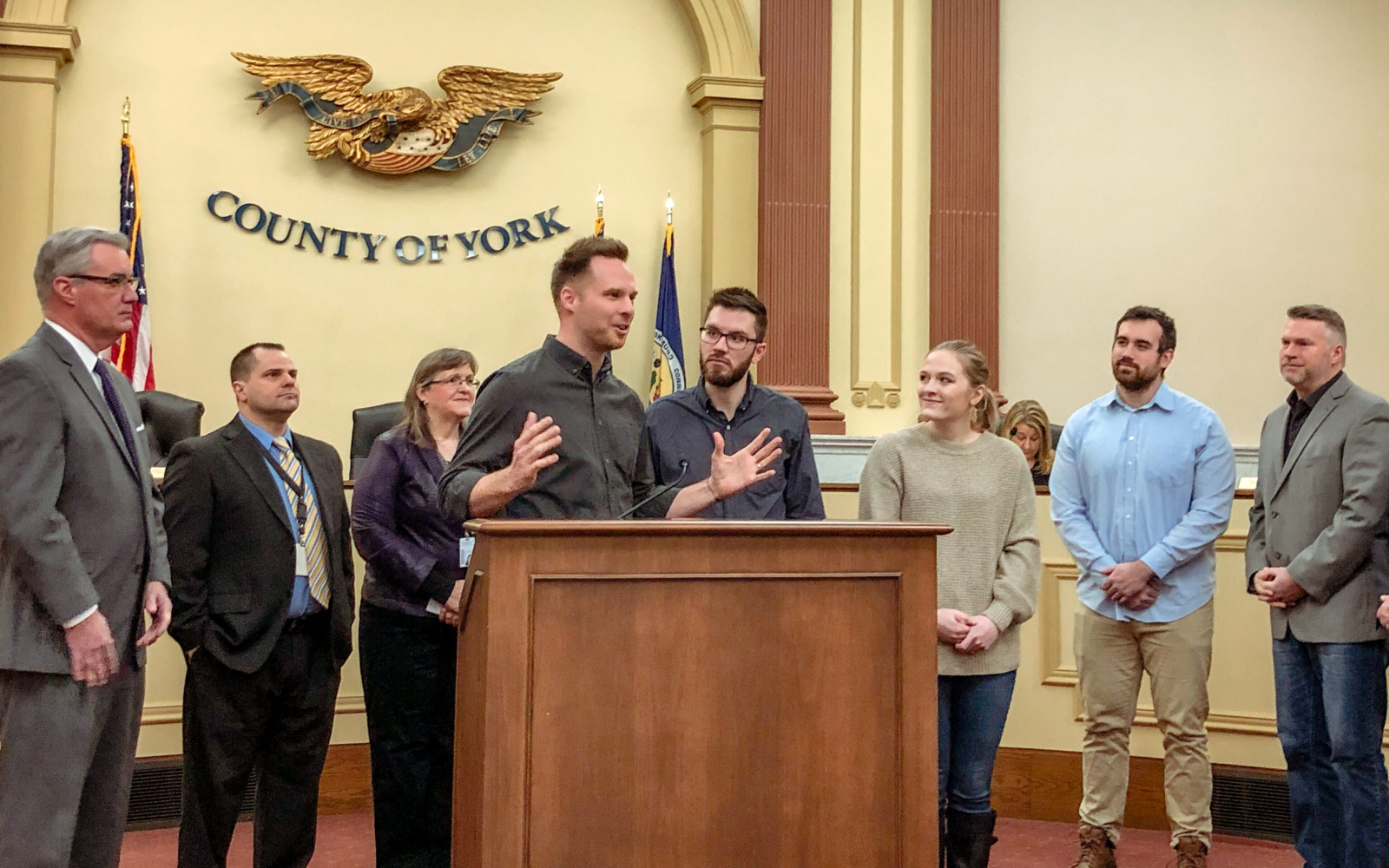 From left to right from podium: Campus Pastor Paul Atkinson, Student Ministry Director Justin Hendricks, Student Ministry Coordinator Jordan Sandoval, LCBC DEVELUP Staff member Brad Erb, Associate Campus Pastor Mark Fitch
The presentation ended with the introducing of some of LCBC York Staff and their roles as well as how LCBC hopes to continue to get out and get involved with the York community in the future. "I hope for as long as God allows for that partnership [with YDC] and allows for us to be a part of the York community, we will always be people that are willing to serve, ready to serve, and wanting to serve people," Paul concluded, "because we know that's the way that Jesus extended himself to us."
You can watch the full presentation through a recorded Facebook Live video here; the presentation occurs in the first 6 minutes of the recording.